At Mosher Media, we love shooting with the Canon C100. The picture quality is fantastic. Its form factor is incredible. Its best quality, however, is that it's unbelievably easy to use! It's been a workhorse for us for several years now.
Yet, out of the box, there is one type of shooting at which it doesn't excel: long form run-and-gun ENG shooting. Want to grab some quick handheld b-roll shots? No problem. It does that well. But if you want to do a full-day handheld shoot including off-the-cuff interviews, the C100 is perhaps not the best choice. Typically we'd use a shoulder-mounted Sony XDCAM for that style of shoot. However, we recently started looking for solutions to make the C100 work as an ENG camera so that we could take advantage of its low-light ability and the general look we can get with the C100.
After a great deal of research and experimentation, we found that 3 additional items could turn the C100 into an ENG camera with which we could shoot comfortably for 10 hours a day and get great results:
a shoulder rig (in our case a Reflex SR10 with monitor mount)
a monitor or EVF (we're currently using a Small HD DP4)
a Zacuto C100 grip relocator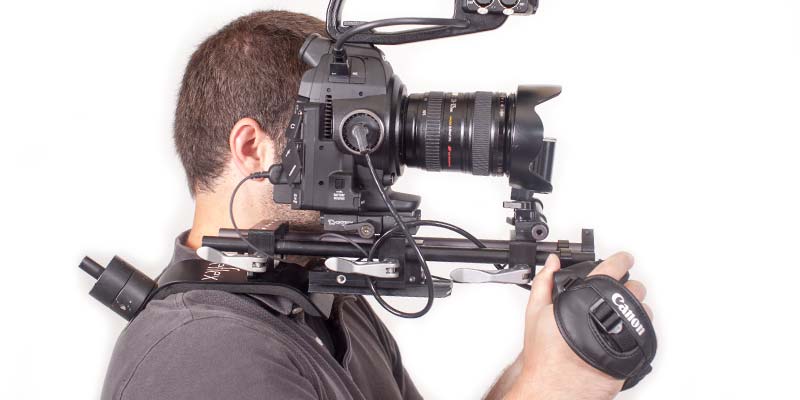 This particular set-up is well-balanced and extremely comfortable for shooting. The camera's weight sits directly on your shoulder, minimizing fatigue. The monitor is mounted directly in front of your face and is adjusted without having to tighten or loosen any bolts or connectors; this is a huge plus over using traditional NOGA arms.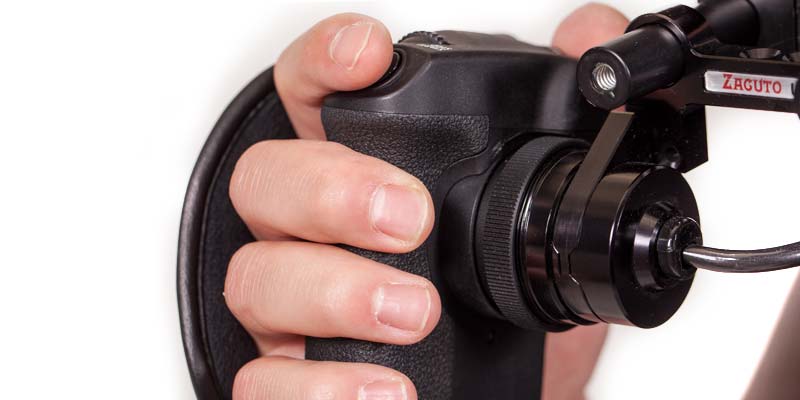 Lastly, having the C100's grip pushed forward really brings the entire rig together. It allows the operator to change any setting on the fly. Start/stop, aperture, ISO, etc., are all right at your fingertips without having to adjust how you're holding the rig or reaching back to change settings directly on the camera.
When using the camera in this configuration, we like to change the customizable button 7 (the one on the grip) to AE ON/OFF rather than magnification. Magnification only occurs on the camera's screen; it isn't visible to the client over HDMI. So with this setup, magnification is useless since we aren't using the on-board screen.
The C100 does have fantastic auto-focus, and it's an advantage to be able to quickly pick and choose when it's on. That's where the AE ON/OFF button comes in. Leave the lens on auto-focus and use the button on the grip to quickly turn AE on and off. This function works beautifully. To quickly grab focus on a person, turn AE on. To immediately recompose and keep shooting, turn AE off.
In addition to the C100 "look" that we really love, another huge advantage of this setup over a traditional ENG camera is its weight. Our C100 ENG rig with lens weighs just under 10 lbs. A traditional ENG camera with battery and lens attached is over 20 lbs. When doing a 10-hour shoot, that weight difference is almost life-changing! Fatigue takes much longer to set in, and we're able to shoot for much longer periods of time without taking a break.
Related Posts